Get Well Flowers
Let GALLOWAY FLORIST of Galloway, NJ help you send get well wishes to your friend or loved one. Show them how much you care with a get well fruit basket filled with fresh fruit. A box of hand selected Asher's chocolates and stuffed Bear is a great and easy way to cheer up a loved one.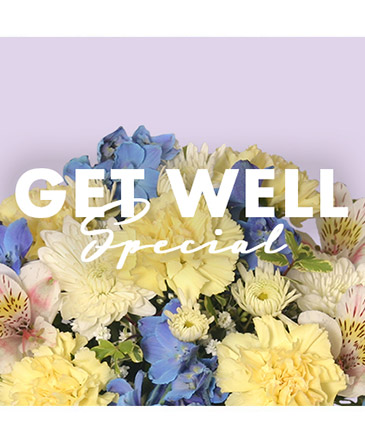 Get Well Special
Designer's Choice
These flowers are the perfect way to say, "Get well soon!" Show them you care with beautiful flowers designed by our expert florists. This arrangement is sure to put a smile on their face when they need a little something to lift their spirits when they're feeling sick!
Order within 33 minutes for Same Day Delivery!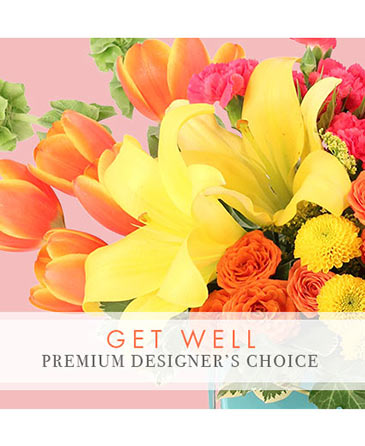 Premium Get Well Florals
Designer's Choice
Flowers like these are just what they need when they're feeling under the weather! These aren't just any flowers—they're the perfect way to brighten their day when they need some happiness in their life! Send our Premium Designer's Choice Get Well flowers today.
Order within 33 minutes for Same Day Delivery!
Hospitals and Health Care Providers in Our Delivery Area:

| Name | Address | Phone |
| --- | --- | --- |
| Absecon Manor Nursing Home | 1020 Pitney Rd Absecon, NJ. 08201 | (609) 646-5400 |
| Bayview Cottage | 613 S New York Rd Absecon, NJ. 08201 | (609) 748-8217 |
| Clare Bridge | 42 W Jimmie Leeds Rd Absecon, NJ. 08201 | (609) 404-1126 |
| Health Center At Galloway | 66 W Jimmie Leeds Rd Absecon, NJ. 08201 | (609) 748-9100 |
| Senior Care Of Galloway | 76 W Jimmie Leeds Rd # 505 Absecon, NJ. 08201 | (609) 652-3600 |
| Wynwood | 46 W Jimmie Leeds Rd Absecon, NJ. 08201 | (609) 404-1099 |
| Atlantic City Medical Ctr | 1925 Pacific Ave Atlantic City, NJ. 08401 | (609) 345-4000 |
| Baltic Plaza | 1313 Baltic Ave Atlantic City, NJ. 08401 | (609) 347-9550 |
| Community Haven | 35 S Virginia Ave Atlantic City, NJ. 08401 | (609) 347-9400 |
| Eastern Pines Convalescent Ctr | 29 N Vermont Ave Atlantic City, NJ. 08401 | (609) 344-8900 |
| Elliott House | 710 N New York Ave Atlantic City, NJ. 08401 | (609) 344-7328 |
| Fox Manor Hotel | 2707 Pacific Ave Atlantic City, NJ. 08401 | (609) 345-1201 |
| Monoc Hospital Svc Corp | 820 N New York Ave Atlantic City, NJ. 08401 | (609) 347-0471 |
| New York Avenue Apts | 233 N New York Ave Atlantic City, NJ. 08401 | (609) 345-1633 |
| Ocean View Facility | 301 Atlantic Ave Atlantic City, NJ. 08401 | (609) 345-5853 |
| Ocean View Facility Licensed | 4 N Vermont Ave Atlantic City, NJ. 08401 | (609) 348-2989 |
| Seashore Gardens | 3850 Atlantic Ave Atlantic City, NJ. 08401 | (609) 345-5941 |
| Country Side Meadows | 205 W Buchanan Ave Egg Harbor City, NJ. 08215 | (609) 652-9100 |
| Enlightened Solutions | 501 Tilton Rd Egg Harbor City, NJ. 08215 | (609) 270-5050 |
| Harbor Hall Boarding Home | 501 Atlantic Ave Egg Harbor City, NJ. 08215 | (609) 965-5935 |
| Atlantic Care Surgery Ctr | 2500 English Creek Ave Egg Harbor Township, NJ. 08234 | (609) 407-2200 |
| Mey House | 199 Steelmanville Rd Egg Harbor Township, NJ. 08234 | (609) 926-5891 |
| Brady Wine Senior Care | New Rd & Central Ave Linwood, NJ. 08221 | (609) 927-9613 |
| Brandall Estates | 432 Central Ave Linwood, NJ. 08221 | (609) 926-4663 |
| St John's Nursing Home | 201 New Rd Linwood, NJ. 08221 | (609) 926-9834 |
| Bacharach Institute For Rehab | 5401 Harding Hwy # 10 Mays Landing, NJ. 08330 | (609) 625-5000 |
| Fairways At Mays Landing | 1801 Cates Rd Mays Landing, NJ. 08330 | (609) 677-9070 |
| Shore Family Health Ctr | 5401 Harding Hwy # 54 Mays Landing, NJ. 08330 | (609) 625-9580 |
| Woodview Estates | 5030 Unami Blvd Mays Landing, NJ. 08330 | (609) 625-4878 |
| Blue Star Health Care Svc | 1200 W Mill Rd Northfield, NJ. 08225 | (609) 646-5851 |
| De Paul Health Care | 1915 New Rd # 6 Northfield, NJ. 08225 | (609) 407-1883 |
| Meadowview Nursing Home | 235 Dolphin Ave Northfield, NJ. 08225 | (609) 645-5955 |
| Henson Home | 30 E Verona Ave Pleasantville, NJ. 08232 | (609) 641-5059 |
| Mainland Manor | Po Box 1309 Pleasantville, NJ. 08232 | (609) 646-6900 |
| Our Lady's Residence | 1100 Clematis Ave Pleasantville, NJ. 08232 | (609) 646-2450 |
| Pleasant Manor Rest Home | 637 Doughty Rd Pleasantville, NJ. 08232 | (609) 641-6665 |
| Pleasantville Housing Authorit | 156 N Main St Pleasantville, NJ. 08232 | (609) 646-3023 |