Get Well Flowers
Let GALLOWAY FLORIST of Galloway, NJ help you send get well wishes to your friend or loved one. Show them how much you care with a get well fruit basket filled with fresh fruit. A box of hand selected Asher's chocolates and stuffed Bear is a great and easy way to cheer up a loved one.
Top off your gift with a few get well balloons.
Wanting something a little more traditional? There is no better or simpler way to remind someone that you're thinking of them than with get well flowers from GALLOWAY FLORIST.
Scroll down to browse and order online from our sample selection of get well flowers and plants or call to customize a gift for that special someone. Let us help you, just call Kenny at 609-652-0083, and will make up a simple but beauiful arrangement with your price range.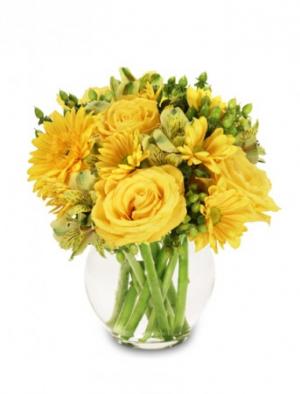 Sunshine Perfection
Floral Arrangement
Talk about a ray of sunshine! This bunch of yellow roses, alstroemeria and gerbera flowers in a simple vase is a burst of happiness. Let this flower arrangement spread some sunshine to the perfect people in your life.
Hospitals and Health Care Providers in Our Delivery Area:
---

Name
Address
Phone

---

Absecon Manor Nursing Home
1020 Pitney Rd Absecon, NJ. 08201
(609) 646-5400
Bayview Cottage
613 S New York Rd Absecon, NJ. 08201
(609) 748-8217
Clare Bridge
42 W Jimmie Leeds Rd Absecon, NJ. 08201
(609) 404-1126
Health Center At Galloway
66 W Jimmie Leeds Rd Absecon, NJ. 08201
(609) 748-9100
Senior Care Of Galloway
76 W Jimmie Leeds Rd # 505 Absecon, NJ. 08201
(609) 652-3600
Wynwood
46 W Jimmie Leeds Rd Absecon, NJ. 08201
(609) 404-1099
Atlantic City Medical Ctr
1925 Pacific Ave Atlantic City, NJ. 08401
(609) 345-4000
Baltic Plaza
1313 Baltic Ave Atlantic City, NJ. 08401
(609) 347-9550
Community Haven
35 S Virginia Ave Atlantic City, NJ. 08401
(609) 347-9400
Eastern Pines Convalescent Ctr
29 N Vermont Ave Atlantic City, NJ. 08401
(609) 344-8900
Elliott House
710 N New York Ave Atlantic City, NJ. 08401
(609) 344-7328
Fox Manor Hotel
2707 Pacific Ave Atlantic City, NJ. 08401
(609) 345-1201
Monoc Hospital Svc Corp
820 N New York Ave Atlantic City, NJ. 08401
(609) 347-0471
New York Avenue Apts
233 N New York Ave Atlantic City, NJ. 08401
(609) 345-1633
Ocean View Facility
301 Atlantic Ave Atlantic City, NJ. 08401
(609) 345-5853
Ocean View Facility Licensed
4 N Vermont Ave Atlantic City, NJ. 08401
(609) 348-2989
Seashore Gardens
3850 Atlantic Ave Atlantic City, NJ. 08401
(609) 345-5941
Country Side Meadows
205 W Buchanan Ave Egg Harbor City, NJ. 08215
(609) 652-9100
Enlightened Solutions
501 Tilton Rd Egg Harbor City, NJ. 08215
(609) 270-5050
Harbor Hall Boarding Home
501 Atlantic Ave Egg Harbor City, NJ. 08215
(609) 965-5935
Atlantic Care Surgery Ctr
2500 English Creek Ave Egg Harbor Township, NJ. 08234
(609) 407-2200
Mey House
199 Steelmanville Rd Egg Harbor Township, NJ. 08234
(609) 926-5891
Brady Wine Senior Care
New Rd & Central Ave Linwood, NJ. 08221
(609) 927-9613
Brandall Estates
432 Central Ave Linwood, NJ. 08221
(609) 926-4663
St John's Nursing Home
201 New Rd Linwood, NJ. 08221
(609) 926-9834
Bacharach Institute For Rehab
5401 Harding Hwy # 10 Mays Landing, NJ. 08330
(609) 625-5000
Fairways At Mays Landing
1801 Cates Rd Mays Landing, NJ. 08330
(609) 677-9070
Shore Family Health Ctr
5401 Harding Hwy # 54 Mays Landing, NJ. 08330
(609) 625-9580
Woodview Estates
5030 Unami Blvd Mays Landing, NJ. 08330
(609) 625-4878
Blue Star Health Care Svc
1200 W Mill Rd Northfield, NJ. 08225
(609) 646-5851
De Paul Health Care
1915 New Rd # 6 Northfield, NJ. 08225
(609) 407-1883
Meadowview Nursing Home
235 Dolphin Ave Northfield, NJ. 08225
(609) 645-5955
Henson Home
30 E Verona Ave Pleasantville, NJ. 08232
(609) 641-5059
Mainland Manor
Po Box 1309 Pleasantville, NJ. 08232
(609) 646-6900
Our Lady's Residence
1100 Clematis Ave Pleasantville, NJ. 08232
(609) 646-2450
Pleasant Manor Rest Home
637 Doughty Rd Pleasantville, NJ. 08232
(609) 641-6665
Pleasantville Housing Authorit
156 N Main St Pleasantville, NJ. 08232
(609) 646-3023